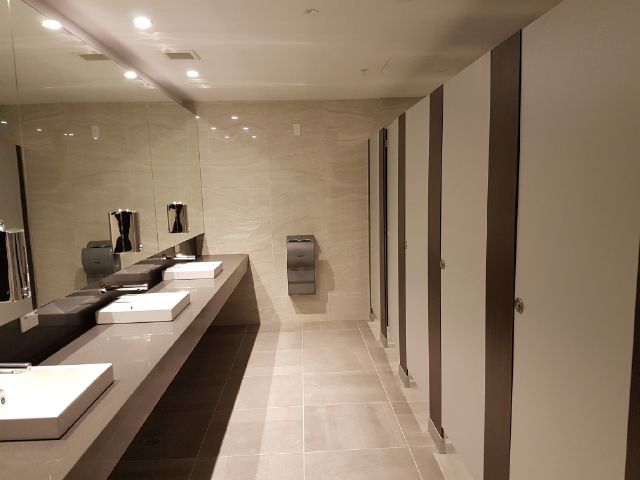 Bathroom Wall Panels and Other Solutions for a Good Office Bathroom
The humble bathroom is often taken for granted in any commercial building. It's there, it works, and for many, that's all there is to it. However, apart from their obvious function, bathrooms also are a place where people can just take a quick break and get away from an intense workspace.
The problem is, some bathrooms can be uncomfortable. This happens when a bathroom lacks some essential features such as good accessibility, functionality and quality. Bathroom designs that effectively incorporate all three characteristics can provide people with a comfortable and pleasant experience. Having multiple toilets with partitions is fair enough but a company bathroom can have so much more.
Why Bathroom Facilities Matter
Bathroom and toilet amenities are often a concern for occupational health and safety, but companies' HR departments should also pay greater attention to these. Several studies around the globe point to the fact that inadequate bathroom facilities can have an impact on employee productivity.
While there is little research in New Zealand or Australia, the Bradley Corporation in the U.S. reports that 89 per cent of American employees equate the regard they hold for their workplace with the quality of bathroom facilities they have.
In the UK, meanwhile, the Association of Plumbing and Heating Contractors discovered that 16.5 per cent of employees do not feel satisfied at work because the office toilets aren't in satisfactory condition. Among the issues that employees cited have to do with smell, decor, leaking taps and cleanliness.
Even the United Nations had done research on the subject of bathroom facilities in the workplace. In line with 2016's World Toilet Day, they released research results that show how the lack of adequate facilities can lead to "poor health, absenteeism, attrition, reduced concentration, exhaustion and decreased productivity."
Bathroom Facilities in the Workplace
Workplaces in New Zealand should follow the Department of Labour's Guidelines for the Provision of Facilities and General Safety and Health in Commercial and Industrial Premises. According to this guideline, an office should have at least:
one water closet for up to 15 female employees, two for up to 20 and one more closet for every additional 20 female employees.
one water closet for up to 20 male employees, two for up to 30 and one more closet for every additional 30 male employees.
one urinal for 15 male employees, two for up to 30 and one more for every additional 30 male employees.
Note that these are only the minimum recommended requirements. Apart from these, the NZ bathroom workplace guideline states that toilets should be situated and constructed in a way that ensures privacy for its users. This can be achieved through the use of durable bathroom wall panels and other commercial bathroom vanity solutions in the toilet for each gender.
But apart from these guidelines, what other features should workplace bathrooms have?
Accessibility
No domestic buildings usually have more than one bathroom. This is to accommodate the number of people who will need to use the bathroom on any given day. Ideally, bathrooms must be accessible to more than one person, a necessity for an office or other types of workspace.
It's becoming frequent for employers to provide showers as well as toilets in their corporate bathrooms and for this, you'll need shower partitions.
Whether people need to use the shower or the toilet, bathrooms that have cubicle partitioning will be able to accommodate additional amenities. Partitioning will create privacy, allowing more people to use the bathroom. Bathroom wall panels nz that look appealing will not only provide privacy but can also be robust enough for everyday use.
Functionality
People go to bathrooms to use the amenities such as toilet, shower, sink and restroom fixtures and water and electric sources. Non-functioning amenities are unusable and unhygienic. This makes a bathroom experience unpleasant.
During the design process of bathrooms, investing in high-quality amenities is an investment. However, the durability of the amenities will save on maintenance and replacement costs. An accessible and functional bathroom in a workplace will increase the productivity of the workforce as there will not be wasted time looking for a bathroom that works and no grumbling that the workplace isn't as good as it should be.
Quality
The quality of bathrooms depends on the type of workplace where it is located. Bathrooms located in public areas or commonly shared places like schools and markets should both be accessible and functional. This is because plenty of people will come to use the bathroom. The vanities do not have to be very stylish, but instead, they should be simple and durable.
Bathrooms located in private areas such as recreational and hospitality establishments should also be accessible and functional. However, since they are places where people may expect more, the bathrooms can be a bit more stylish. This can be achieved by installing dim lighting, plants, art pieces and other decorative materials.
Quality bathrooms are physically appealing, accessible and fully functional. Together, these characteristics create a comfortable bathroom experience.
DuraPlan – Your Partner for Comprehensive Restroom Solutions
DuraPlan is a leading provider of commercial restroom solutions in New Zealand. We specialise in developing commercial bathrooms for different industry sectors. We take pride in our wide range of durable products and excellent customer service. We prioritise the needs of our clients by maximising the value of our projects from creation to installation.
Our values – creativity, integrity, accountability, sustainability, innovation and success – are integrated into all our partnerships to ensure the success of each project. Get in touch with us today, and we can discuss the project you have in mind.